No one likes having crooked or gapped teeth, but metal braces can be noticeable, uncomfortable, and inconvenient.
At Scott Orthodontics in Mitchellville and Silver Spring, MD, patients can straighten their smiles much more discreetly with Invisalign®.
What factors should you consider when choosing an Invisalign provider?
Experience and Great Results
More than 300 Satisfied Patients
Your smile is one of the first things others notice about you. At Scott Orthodontics, our mission is to make sure they notice something wonderful! As a premier orthodontist serving patients in the greater Mitchellville, Silver Spring, and Bowie areas, Dr. Stuart A. Scott is proud to provide high-quality orthodontic treatment in a warm, welcoming office environment. While traditional metal braces are the most popular form of treatment we offer, this solution has been gaining popularity due to its many benefits.
Dr. Scott was an early adopter of Invisalign, becoming certified to provide this treatment in 2001. Today, he is proud to be ranked as an Invisalign Platinum Provider; he has helped more than 300 patients enhance their smiles using this advanced solution.
Both Dr. Scott and the whole staff are great at making you feel at ease, ensuring you understand all the moving pieces (literally) and helping to craft the best customer experience from the moment you walk in the door. Would highly recommend. (I'll try and update this review at the end of my treatment).
View On Google
My treatment went extremely well, i completed the process earlier than expected. Going to Dr Scotts for treatment is without a doubt one of the best decisions i have made in my life. They were responsive to all my queries, explained in great detail what i was to expect, they were incredibly friendly and easy to talk to.
View On Google
Are You Considering Invisalign?
Schedule an Appointment Today
If you think the Invisalign system might be the right treatment for you, we encourage you to schedule an appointment with Scott Orthodontics today. During an initial consultation, we can ask
questions about your goals
,
examine your bite
, and
review your dental history
to determine whether using aligners or some other treatment plan would be best for you. We serve patients from throughout the greater Bowie, MD, area, with offices in
Mitchellville
and
Silver Spring
.
To schedule an appointment, please fill out our online form or reach us by phone:
The Invisalign System is an alternative treatment to traditional braces that uses the same principles, but a fundamentally different technique to improve alignment. Instead of metal wires and brackets mounted on the front of teeth, Invisalign treatment uses a series of clear, removable plastic trays that fit directly over the entire dental arch. Invisalign aligners are virtually invisible and easy to pop in and out for eating, drinking, brushing, and flossing.
When you choose to straighten your teeth with this
discreet system
, an Invisalign technician will custom-design a series of clear aligners for your unique bite. Each aligner is worn for about two weeks before moving to the next in the series. As you graduate from one aligner to the next, your bite will gradually
move into alignment
.
Made for Freedom. Made for You. | Invisalign
See How Invisalign Straightens Teeth
The Benefits of Invisalign
Discreet
The aligners are virtually invisible, so those around you probably won't notice them. You'll never have to worry about having metal braces during photo sessions, social events, or presentations at work.
Comfort
While braces have metal brackets and wires, Invisalign aligners are completely smooth to the touch. This means you won't experience any of the irritation that traditional braces can sometimes cause.
Removable
While the aligners need to be worn for about 22 hours a day to achieve the best results, you can remove them when eating so you don't have to modify your diet. You can also remove the aligners when brushing or flossing, making oral hygiene as easy as ever.
Results
When patients commit to wearing the aligners, Invisalign treatment produces straight smiles just as effectively as traditional braces. In as little as 12 months, you can have a beautiful, symmetrical, and healthy-looking smile that you'll love sharing with the world.
Improved Oral Health and Dental Savings
A straighter smile doesn't just boost your confidence, it boosts your oral health as well. Investing in clear aligners can save you and your family money in the long run by making it that much easier to maintain good dental hygiene and stay on top of your oral health.
Am I a Good Candidate for Invisalign?
Good Oral Health
Before you can undergo Invisalign treatment, you must have good oral health. Any dental issues such as
cavities or gum disease must be addressed before
beginning your Invisalign journey.
Dr. Scott
will perform an evaluation using x-rays and other tools at your initial consultation.
Committed to the Process
While using clear aligners is the simplest orthodontic treatment available, it requires commitment. Aligners must be worn for about 22 hours each day for the best results. Neglecting to wear your aligners could result in a longer treatment time.
No Teeth Grinding
Grinding or clenching can wear down aligners over time. If you wear a nightguard to sleep or have severe bruxism, Dr. Scott may recommend an alternative straightening method.
Invisalign Treatment Timeline
A Versatile Treatment for All Ages
Request a Consultation Today
Are you ready to experience why Invisalign is one of the most popular orthodontic options among our patients? Our team has helped hundreds of patients achieve the smile of their dreams using convenient, clear aligners. Whether you are an adult looking to revamp your smile or looking for a reliable treatment for your teenager or child, aligners benefit any age and lifestyle. To request a consultation or learn more, phone our office and we'll be thrilled to discuss the next steps with you:
At Scott Orthodontics, we also offer Invisalign Teen, an exciting method that takes the original Invisalign system and customizes it to suit the teenage lifestyle. With Invisalign Teen, each clear aligner comes with a built-in compliance indicator, telling parents, Dr. Scott, and teens themselves if the aligners are being worn enough. We can design aligners with eruption tabs that hold space open for unerupted teeth, allowing our orthodontist to treat teens even if some teeth haven't fully grown in. Invisalign Teen also comes with six replacement aligners, so if any get lost or broken, you have nothing to worry about. Combined with the other benefits of using aligners, Invisalign Teen is ideal for today's busy, socially-conscious teens.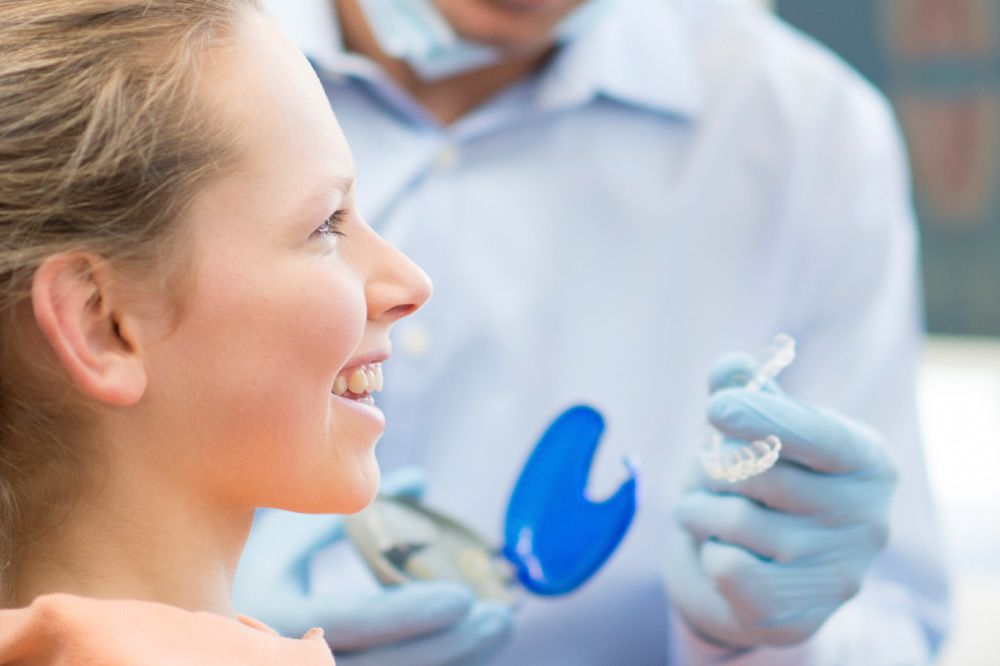 "Professional, Knowledgeable, and Friendly"
They have always done an excellent job of being attentive to the needs of my orthodontic issues. I really appreciate it and I will always refer his practice. Thank you - Pamela Johnson
View On Google
Dr. Scott and his staff are very professional, knowledgeable and friendly. The facility is up to state with state of the art equipment and is always very clean. I love this place!

View On Google
"The Environment Is Welcoming,
Warm, and They're So Friendly!"
Dr. Scott he is a perfectionist and his work speaks for itself. He and his awesome Top Teir Team are knowledgeable, exceedingly, and abundantly competent in their area of specialty. The environment is welcoming, warm, and they're so friendly. My teeth looks fabulous, and compare to where it was coming from its like magic. Im feeling and acting brand new
View On Google
I've had a great experience at Scott Orthodontics. The staff is very professional and they make sure you're taken of. I'm so happy I chose Scott Orthodontics, I look forward to seeing the end results!
View On Google